At the core of our mission are the goals of evangelism and discipleship and the furthering of the Kingdom of God.
We believe that athletes have a unique opportunity and ability to spread the Gospel in ways that others do not.
By focusing on the athlete, first and foremost, ASI hopes to create disciples that are devoted to Christ's call to spread the Gospel around the world.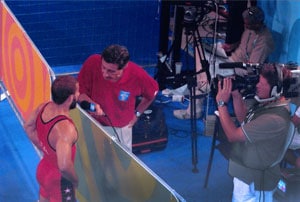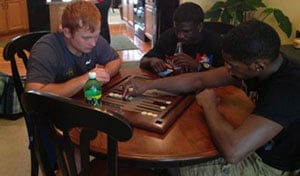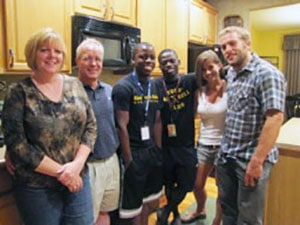 Ambassador Sports International began in a small dorm room at the Olympic Training Center in Colorado Springs, Colorado in 1994. Jim Gruenwald, a new resident Greco Roman wrestler, and Tony Silengo, a recently ordained pastor with a wrestling background, desired to study the Bible.
They realized a need to share God's Word with athletes living and training at the OTC. The Bible studies were held on Wednesday evenings at 8:00 p.m. During the first years, Greco Roman wrestlers were the only athletes to attend. Eventually Freestyle wrestlers attended, then judo players and weightlifters, taekwondo and badminton players. Over the years, athletes from 22 different sports have attended the Bible studies. The Bible studies are centered around the life of an athlete and how to become an Ambassador for Christ in the arena of sports.
Christian athletes take what they learn and carry it with them to the playing field and beyond. They encourage each other and pray for each other. They let the light of Jesus Christ shine in the sporting community.
Athletes from around the world have come to know Jesus Christ as their Lord and Savior and have gone on to serve Christ. ASI works along side other Christian sports organizations like Athletes In Action to bring the Gospel to high school and college campuses as well as the Olympic Training Center in Colorado Springs.
Ambassador Sports International is a 501(c)3 religious nonprofit organization. All gifts and donations are tax deductible.
Meet the Board Members
Ambassador Sports International's Board of Directors is comprised of five men and women who are dedicated to the mission and growth of ASI. Each board member brings a unique set of experiences, talents, and abilities to the ministry.
Anthony Silengo

James Gruenwald

Dr. Christopher Mirabella

Ethan Bosch

Rebecca Silengo
Their commitment to ASI is a gift from God and is greatly needed and appreciated.
---
If you have questions about the board of directors or would like to contact a board member, please email us at ambassadorsports@comcast.net.